There's even more to be said about
Everly's
frequent visits to The Grind Bar. Here's an excerpt and a lovely picture of Amber and Joy in their element on Saturday night.
What a weekend we had at The Grind, from an unbelievable wine tasting to great music and a room full of TV stars. If you missed it, you were one of the few, because we had a couple standing room only nights.

Everly played again on Saturday, this time for a full hour, covering Tom Petty and singing some of their originals. Amber belted out Peter Gabriel's "In your Eyes," (great pipes!) and the boisterous crowd fell silent when the girls sang their signature (soon to be) hit "Home is Me, You Are Mine." I truly believe this song will be getting major radio play before we know it. It is absolutely haunting, and shows the range these two have. If it doesn't give you goose bumps, you aren't alive!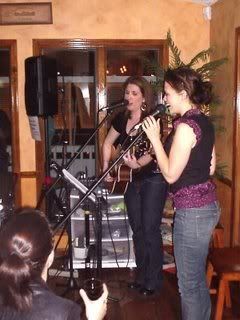 source:
If you pour it, they will come!
Plus exclusive
HQ
images of their performance can be found at
bjoyweb.net
.