Everly
gets a mention in the news section of columbian.com!
"One Tree Hill" star opens B.G. restaurant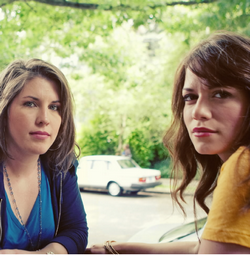 Actress, singer and songwriter, Bethany Joy Galeotti now can add restaurateur to her résumé. The CW Television Network star, who resides in Battle Ground when she's not in North Carolina filming the role of Haley James Scott on "One Tree Hill," has teamed with her husband, Enation band member Michael Galeotti, and in-laws to open Galeotti's.
The restaurant occupies the space in downtown Battle Ground that formerly housed Irby's Fine Dining and will celebrate its grand opening July 24 and 25.
They'd been looking for a way to get more involved with the community, and the restaurant seemed to be a good fit, said Bethany Joy Galeotti, 28.
"It's been an amazing opportunity for us to grow and dream. It's been really good for us as a family," she said. "We love good food and wine, and we love people. We couldn't think of a better way to reach out and touch the community. We want to be the living room of Battle Ground."
The restaurant will focus on healthful, organic, locally sourced foods, and will use eco-friendly materials and supplies whenever possible, Galeotti said.
Although she spends much of the year across the country, she plans to help out at the restaurant whenever possible, so diners may spot her seating guests or waiting tables from time to time.
But most immediately she'll fill a more familiar role: entertainer.
Galeotti and Amber Sweeney, who comprise the music duo Everly, will perform at the restaurant July 25.
The music lineup also will include Battle Ground-based band Enation, which features Michael Galeotti, his brother Luke Galeotti, Daniel Sweatt, and actors Jonathan and Richard Lee Jackson.
Find more information about the restaurant on the Galeottis' blog,
battlegroundrestaurant.com.

If you go

What: Galeotti's's grand opening.
When: 4 to 6 p.m. July 24, 11 a.m. to 4 p.m. July 25. "One Tree Hill" actress Bethany Joy Galeotti and her Everly bandmate Amber Sweeney will perform at 3 p.m. July 25, followed by Enation.
Where: 801 E. Main St., Battle Ground.
Information: 360-666-4877, battlegroundrestaurant.com.